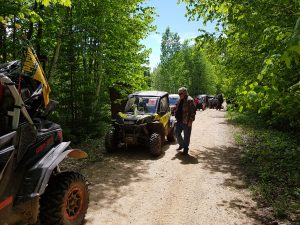 The RiderCourse is full-day  program that provides a fun and structured way to learn and practice proper vehicle operation. Performing exercises in a controlled environment and knowing how to prepare for more difficult terrain are the best ways to ensure a safe and enjoyable outing. Course materials are provided and successful candidates are registered with the Canada Safety Council as well as provided with a completion certificate.
Prices start at $150 per rider.
Youth ATV RiderCourses Available for ages 6 – 15!
ATV RiderCourses are also available for youths aged 6 to 15 whose parents specifically permit them to ride ATVs. Vehicle must be the proper size for the participant as per ATV industry safety standards. The maximum number of participants depends on age.
For children ages 6-11 we supply the ATVs and helmets as result of our sponsorship with Cartronics Motorsports in Napanee and Can-am and Motorsports Plus in Kingston.
Smaller class sizes allow for deeper skills development. At younger ages, the parent or legal guardian must be present at all times during the event.
We also offer private, semi-private, family and group lessons for youths and adults.  Feel free to ask for training on a date that suits your schedule.
UTV Training (Side-by-Side) Course
The recently introduced Canada Safety Council Program is now available and will be conducted on an as-needed basis.  Ideal for for employment related training or for anyone wishing to explore the potential of their side-by-side in a controlled atmosphere.  You will experience first hand the characteristics of your machine under varying circumstances.  For details or to arrange a date or location for an individual training day or a group, call Dave Haney at 613-293-1440.
Thanks to the support of Prince Edward County Council (The County) http://prince-edward-county.com, most courses are now held just outside of beautiful Picton, Ontario in a municipal quarry.  We are proud to offer amazing terrain and a scenic trail ride not found elsewhere.  The Picton area is a very popular for tourists, well known for local wineries and site seeing and a widen array of accommodations for those wanting to stay a day or two with us.  Come for a weekend, stay for a lifetime.
Other suitable locations will be considered based on demand.
To book a course call
RiderCourses are administered by Steve Baldwin of the Napanee & District ATV Club. To contact him call the Office at 613-354-5202 or email him steveb@ndatvclub.org